Only managed to get about 3/10ths of a mile done today,
very cold and windy outside and I'm still suffering from the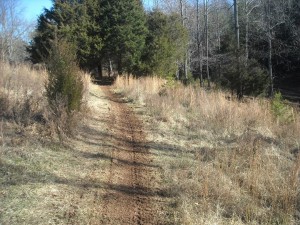 effects of a head cold. Both my "boys" had other plans  (can you blame them) so I was by myself. Re routed a section through a field to accommodate a new lower loop from the head trail that has some nice downhill and oh yes, uphill . Getting ready to start on a sweet downhill section that will wiggle waggle its way to the bottom where it will cross the stream several times.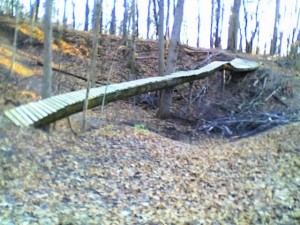 Saw this cool bridge on another site and though,,,"I wonder, would anybody cross it?" Then I realized heck yea! L0L
After watching the video below I'm considering renting a mini excavator from Handys Rent All in Martinsville to expedite the trail building process.